People have been drinking whiskey since the 13th century, but it took almost 700 years to perfect an incredible cinnamon flavored whiskey for everyone to enjoy in many different ways. That's when Fireball Cinnamon Whisky was founded – in the 1980s – and the whiskey game has never been the same since.
https://www.instagram.com/p/Bnt-o0MlW7P/
Some of your favorite hazy memories from college probably took pace after a few shots of Fireball – we know ours did! The cinnamon alcohol has become so popular that YouTube account NerdWire got four grandmothers together to try it for the first time, and it resulted in a viral video!
The video has almost 5 million views and counting, and for good reason.
Fireball is a popular whiskey to drink in shot or cocktail form, but it really shines in other ways than just drinking it. Many cooks and pastry chefs have incorporated it into their recipes, like this incredibly delicious Fireball Fudge.
Malcom Reed from the popular YouTube page How To BBQ Right is taking Fireball cooking to the next level with this Grilled Fireball-Soaked Pineapple.
Note: To make this incredibly simple recipe, your barbecue will need a rotisserie rod or setup.
Besides the rotisserie setup, all you need are two pineapples, a bottle of Fireball whisky, raw sugar, brown sugar, and ground cinnamon.
First, you should cut off the pineapple skin, making sure you slice off all of the eyes. After you've cleaned up your pineapples, put them in a large Ziploc bag with about half a bottle of Fireball and marinate in the refrigerator for two hours. Make sure you give it a quarter turn about every half hour to make sure the entire pineapple soaks up the whiskey.
Next, mix your raw sugar, brown sugar and cinnamon in a bowl and when the pineapples are ready to go, coat all sides with the sugar mixture, but make sure to leave some leftover. Put the sugar-coated pineapples on the rotisserie and into the barbecue for about an hour, halfway through adding more sugar mixture.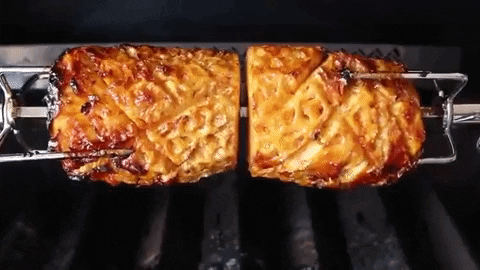 Once it's done cooking, just slice and serve – no need to let it rest. Reed likes to serve his Fireball-Soaked Grilled Pineapple with pulled pork, but it can go with any barbecue dish, making it the perfect side dish!
This recipe is so easy and tasty that we will be making it for years to come, and we know it'll be the hit of all the barbecues! Watch Reed's tutorial video below.