Can "Cry Pretty" Be Tackled?
Throughout her career, Carrie Underwood has generated immense praise for pushing her talents to the limits.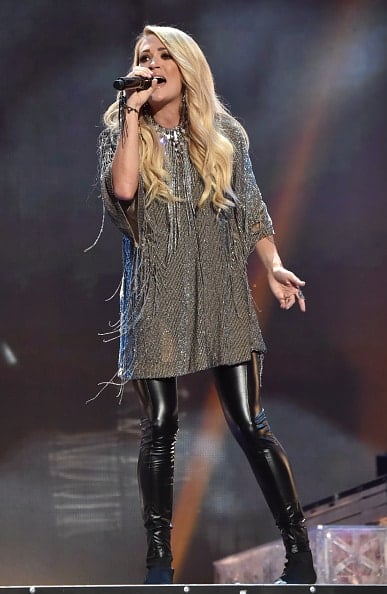 Songs such as "Blown Away" and "See You Again" place her at the top of her vocal range, allowing her to hit high notes that can only be described as chill-inducing.
And have you ever heard her sing "How Great Thou Art"?
But Underwood's impressive track record didn't have fans prepared for the vocal power she displays on her latest single, "Cry Pretty." The song, co-written by Underwood and released in April, tests her range like none of her other tracks.
Because of the endless loops of high notes, anyone could listen to "Cry Pretty" and deem it as near impossible for anyone to sing. Well, anyone that is, except for Underwood.
Little Girl Does What Many Thought Impossible
However, one young singer just proved that "Cry Pretty" can be conquered. 
On August 20 Stephanie Burns shared a video of her 12-year-old daughter singing along to "Cry Pretty" from the backseat of the car. But it wasn't your typical "aw how cute" kind of video you often see of little kids singing their favorite country songs. It was a showcase of pure talent.
As Burns wrote in the caption, her daughter absolutely loves "Cry Pretty," and it shows. She filmed the tail end of her daughter's sing-along performance, which is arguably the most difficult part of the song.
Your jaw will drop when you hear how the young girl tackles each high note, one after the other, with power and ease. She may be small, but she has a huge set of pipes.
Burns mentioned throughout the comments that her daughter is preparing the song for some competitions. Based on this video, we have a feeling she'll blow all of the judges out of the water.
After the little girl's performance went viral, it ended up catching Underwood's attention. She praised her singing skills on Twitter for her millions of followers to see.
Ansley, this is amazing! Everybody keep your eyes out for this girl! https://t.co/jugU3i5oVT

— Carrie Underwood (@carrieunderwood) September 4, 2018
Underwood is right, you better keep your eyes peeled, because this little girl is a country superstar in the making!