American Idol Goes British For Queen-Themed Night
After singing his way into the Top 8 on American Idol, Louisiana native Laine Hardy was given a seemingly impossible task. Sing a Queen song, and do so with confidence.
The Top 8 contestants went head-to-head on a Queen-themed night, with each artist performing a song made famous by the iconic British rock band.
In preparation for the special night, they were mentored by someone who knows the group well. That someone happened to be former Idol star Adam Lambert, who currently tours with Queen.
Hardy was tasked with singing Queen's "Fat Bottomed Girls," a lively song that was surely a challenge for the 18-year-old artist. Not because his voice couldn't handle it (believe us, it could), but because he needed a great deal of confidence to be able to pull it off.
The Confidence Conundrum
While Hardy has done well on Idol, this isn't his first time on the show. He originally auditioned for the reboot's first season, but was eliminated for his lack of confidence.
Since his return, Hardy has worked on improving his stage presence, but the judges have always begged him to give a little bit more. For example, they gave him such a critique following his rendition of "That's All Right" by Elvis Presley.
So when it came time for Queen night, Hardy stepped up to the challenge. He embraced his inner rocker in his performance, utilizing the entire stage rather than staying still in one spot like he feels comfortable doing.
He even made his way to the front of the stage to touch the hands of the adoring audience members. That signature rock star move drove them wild!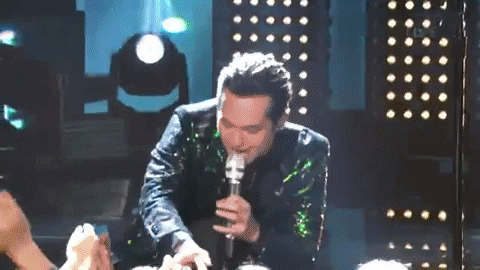 Driving Katy Crazy
Another lady who was going crazy over Hardy's performance was judge Katy Perry. She later confessed that "Fat Bottomed Girls" is one of her favorite songs, which explains her enthusiastic response to Hardy's performance.
She's also a longtime fan of the Louisiana teen, which is why it came as no surprise when she stood up in the middle of his performance. Well, it was actually the beginning of his performance…she was out of her chair within seconds of hearing him sing!
Although Perry sat back down, she found herself on her feet again, absolutely blown away by Hardy's engaging performance. He wrapped up with some bursts of smoke, flashing lights, and a gallop across the stage, and was then rewarded with a roar of cheers from the crowd.
Perry wasn't the only judge in awe of what she witnessed. Luke Bryan and Lionel Richie both noted that Hardy seemed much more at ease on stage, and praised him for the strides he made in that regard.
In the end, America was also impressed, and they voted Hardy through into the Top 6! See the performance that placed him there by tuning in to the video below.
This kid is shaping up to be a superstar!