All About Laine's Idol Journey
Louisiana teen Laine Hardy, also known as the "Bayou Boy," quickly emerged as one of the standout stars of the second season of the rebooted American Idol. But longtime viewers of the show were already familiar with the young singer, since he first competed on the reboot's original season.
Only 17 at the time of his first audition, Hardy performed a cover of "Hurricane" by the Texas rock group Band of Heathens. The performance impressed the judges, and earned him a golden ticket to Hollywood.
Despite being a fan-favorite contestant at that time, Hardy was eventually eliminated before he reached the Top 24. Although the judges were fond of him, they felt that he wasn't as confident as some of the other competitors.
Hardy went home and worked on becoming more sure of himself as a performer. A return to Idol didn't seem to be on his mind, but he decided to come back on the show when his friend asked him to play guitar at her audition.
The judges were thrilled to see Hardy there, and asked him to audition as well. He did, and they offered him his second golden ticket. Much to their delight, he accepted!
Week after week, Hardy amazed viewers and the judges with his newfound sense of confidence and stronger voice. He quickly became known as one of the season's biggest heartthrobs, thanks in large part to swoon-worthy performances of Elvis and Same Cooke classics.
After finding out that he had made it into the Idol Top 10, Hardy traded that heartthrob persona for an edgier vibe. He chose to show a side of himself no one had ever seen before, delivering a gritty rock and roll cover for the millions of people watching at home.
Witness The Change With Your Own Eyes & Ears
The performance marked a full circle moment for Hardy, as the song he chose to sing was none other than "Hurricane." You can tell by the judges' reactions that they were stunned to hear how different Hardy sounded on the song than he did at his first audition.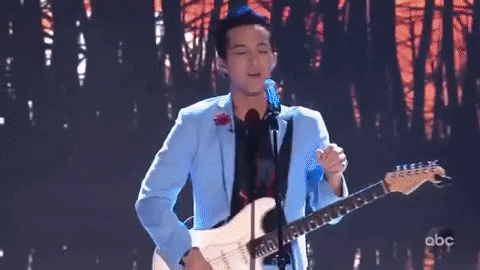 All three judges dumped compliments on Hardy following his performance, with Katy Perry making it clear she was a huge fan. She called his new, vamped up rendition of the song "smokin' hot," and we have to agree!
If you want to see how much Hardy has changed as a performer since his first time on Idol, this is the perfect performance to watch. Since he's singing the same song he performed during season one, this performance offers a direct comparison for you to analyze.
Be sure to watch Hardy's updated "Hurricane" performance below. It's outstanding to see and hear how much he has grown as a performer since his early Idol days!