Kid Rock Digs Deeper Into Country
Two years after the release of his previous single, Kid Rock kept good on his promise to release some fiery new music. The former rapper turned country star took fans by storm with a single that glorifies the redneck way of life.
Titled "Po-Dunk," the song was released as the first single off of Rock's album Sweet Southern Sugar.
Kid Rock's new album 'Sweet Southern Sugar' is available for pre-order now: https://t.co/sGOSEVgajN pic.twitter.com/lTtZaISH3H

— Kid Rock (@KidRock) October 24, 2017
The kickin' anthem takes a takes a bold approach to what it's like to be raised in a redneck town.
Overall, the song is brimming with tales good ole times and is all about people not giving "a flying hillbilly f—."
Rowdy Rednecks Star In Music Video
"Po-Dunk" generated a good deal of attention, and managed to climb as high as the 27th spot on the Billboard Hot Country Songs chart. The buzz surrounding the song only increased with the release of its music video.
The music video features no shortage of country folks, who all enjoy spending time with their families, mechanical toys, and guns.
Along with the lyrics, the video makes it clear that rednecks don't care what anyone else thinks of them, as Rock sings, "Love us if you can. Sorry if you can't. Holler if you're in. Shut up if you ain't."
Rock appears in the video alongside country babes and redneck guys having the time of their lives as they dive into mud pits and craft makeshift pools out of truck beds and tarps. It's a blast to watch!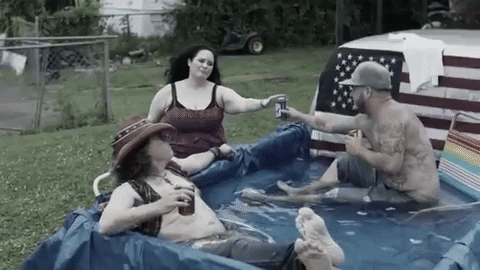 Celebrate all things redneck by tuning in to Rock's music video for "Po-Dunk" below. Let us know what you think of it when you're done!
WARNING: Video contains strong language.