For years powerhouse Kelly Clarkson has been releasing breathtaking and real songs about love, breakups, and loss. With eight studio albums under her belt, she has found a beautiful way to express herself to the world, through music.
An Emotional Journey
In 2004, Clarkson's "Because Of You" broke the hearts of fans everywhere as she opened up about her childhood. Fast forward to 2015 and the singer released yet another self-reflective narrative to her father. This time though, her song "Piece By Piece" came from a different perspective. The song tells the story of her husband's unconditional love for her and their daughter. The emotional ballad plays into the comfort of knowing both her and her husband will never leave.
In 2016, Clarkson performed a riveting live performance of the song on the 15th season of American Idol. As she took the stage, the very-pregnant, soon-to-be mama, couldn't control her emotions while singing the ballad. The singer had to pause between several notes as she began to cry. Keith Urban – who was a judge on that season – was seen wiping tears away as her powerful performance became personal for him as well.
A Powerful Piece
Just this year, Kelly felt the overwhelming emotions come over her yet again. While on her Meaning of Life Tour, she took the stage with just her guitarist to perform "Piece By Piece." Mid-way through the song, she caught herself getting choked up. As the music stopped so she could catch her breath, she explained to the crowd "It's because my kids are here." Amazingly enough – she found it in herself to finish out the song for the widely supportive crowd.
Following her emotional performance, she explained to the crowd that this was the first time she's broke down singing this song while on the tour. She adds,
"My kids are at this one. Once you have kids, it's one of those things I can't even fathom – about not sticking around and caring. I just can't even fathom."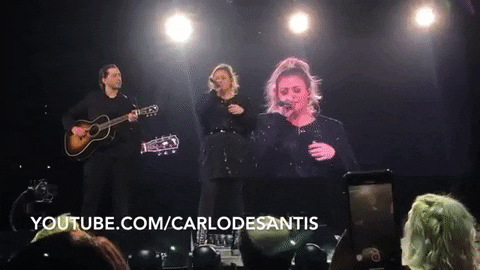 You can watch Kelly's beautifully powerful performance below.