Nicole Can Sing Too
Few people realize that Keith Urban isn't the only musical one in his family. His wife, actress Nicole Kidman, can also sing.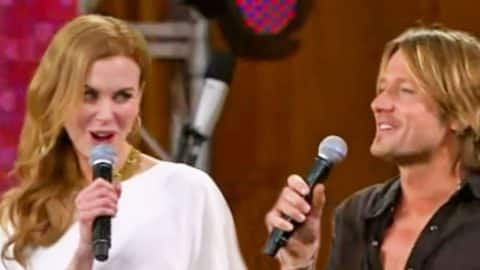 There is no greater demonstration of Kidman's singing skills than the 2001 musical film, Moulin Rouge! Kidman plays a character named Satine, the star performer at the film's namesake cabaret in Paris, France.
Kidman did her own singing throughout the film, showcasing her lovely voice to the world.
Her Hidden Vocals On Husband's Song
Years later, Kidman offered up her voice to one of her husband's most meaningful projects. If you listen closely to Urban's empowering song "Female," you'll hear what sounds like the voice of a woman singing in the background.
It turns out that voice you hear is Kidman's and the song's co-writer, Nicolle Galyon's, blended together.
Although Kidman offered her voice to the track, fans knew the chances of her ever singing it on stage with Urban were unlikely. Though the notoriously private couple has performed together live in the past, the moments have been few and far between.
Stepping Out Of Her Comfort Zone
Things have changed within recent months, with Kidman famously joining her husband in Nashville to sing one of his newest songs, "Parallel Lines." Though she seemed hesitant at first, you could tell how at ease she felt singing with him.
As if that wasn't cute enough, Kidman shared yet another rare duet between her and her husband.
In honor of the International Day of the Girl, the couple appropriately chose to share a snippet of them singing together on "Female." This clip is notable, since it's the first time anyone has ever watched them perform "Female" together.
A First Chance To Hear Them Sing This Together
Seated at a piano together, Urban plucks out the notes to the song and sings the melody. Instead of singing her harmony part, Kidman beautifully sings the melody along with him.
In honor of International #DayoftheGirl – filmed by Sunday and Faith! – KU pic.twitter.com/KnJeExXkP2

— Keith Urban (@KeithUrban) October 11, 2018
What makes things even more special is the fact that this clip was filmed by the couple's two daughters, Sunday and Faith. How sweet!
The love that Kidman and Urban share for each other comes to life through his music, with many of his songs being about or inspired by her. One of those songs is "The Fighter," which the couple lip-synced to in one of the most viral videos to hit country music in 2016.
Rewatch that adorable video below!
Hopefully these two continue to sing together in the future. They make a great team.