For the last six years, George Strait has held a RodeoHouston record. In 2013, 80,020 people showed up to watched him perform and on March 17, 2019 his record was broken – by himself!
Yep, you read that right…Straight broke his own record! He sold a whopping 80,108 tickets to his show on March 17.
According to RODEOHOUSTON, 80,108 fans attended the 2019 Houston Livestock Show and Rodeo Sunday night. #kingofcountry https://t.co/ML8a8BYG1A

— KZTV Action 10 News (@Action10News) March 18, 2019
At RodeoHouston, he performed a 32-song set of his hits, some of his favorite covers, and new music off his upcoming album Honky Tonk Time Machine (out March 29), including "Every Little Honky Tonk Bar," "The Weight of the Badge," "Codigo," and "God and Country Music."
Strait featured a young singer who he holds near and dear to his heart on the song "God and Country Music," his grandson Harvey!
Proud Grandpa
Strait announced he became a grandpa to Harvey, born George Harvey Strait III, at his concert on February 2, 2012, telling his audience the US Airways Center, "Yesterday, my son just had his new baby!" He had just performed "I Saw God Today," and couldn't wipe the smile off his face singing about a baby being born without bringing up the newest blessing in his life.
Harvey's RodeoHouston Debut
RodeoHouston was Strait's first big gig since releasing all this new music, so when it came time to perform "God and Country Music," a song that is about two things "still worth savin'," he knew he had to bring his 7-year-old grandson on stage to sing it with him.
"This is my grandson," he said introducing Harvey to the record-breaking crowd.
Strait began singing the ballad, while Harvey stood next to him holding the microphone up to his mouth ready to sing. Every so often, Strait would adoringly look to his right at Harvey during a musical break.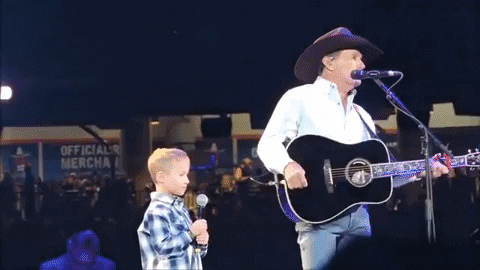 While Harvey only sings a few lyrics, the entire performance is worth the watch because of how good the song is. Harvey sings part of the chorus with his Grandpa at the very end, even getting to sing the last "God" of "God and Country Music" by himself.
The performance got a roaring round of applause, and Harvey definitely had something to do with that. Like a pro, Harvey waved to the crowd as he walked off the stage garnering a huge "Awww" from the crowd.
But before he did, he gave his grandpa a huge hug that will definitely put a smile on your face.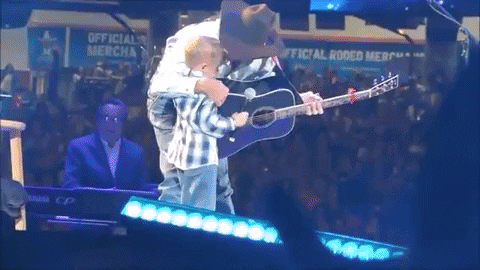 Watch Strait sing with his grandson in front of a record 80,108 people below.