Ellen, The Queen Of Pranks
Ellen DeGeneres certainly doesn't take it easy on her celebrity guests. The talk show host and comedian is always trying to find a way to prank or scare some of the most high-profile stars that come on her show, and she almost always succeeds.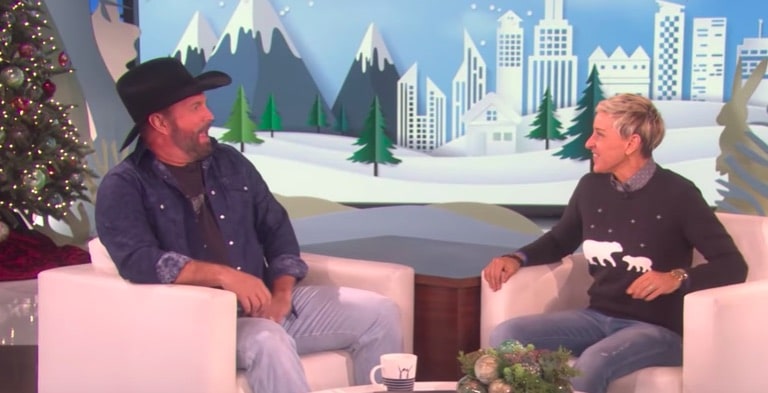 Country stars certainly haven't been immune to DeGeneres' antics.
One of her most famous scares was when Carrie Underwood stopped by the show in September 2016. In the middle of her interview, a man dressed like Underwood's husband Mike Fisher popped out of the side table and sent Underwood into a fit of high-pitched screams.
But things didn't follow the typical pattern with another country star…Garth Brooks.
Garth's Visit Doesn't Go As Planned
It all went down when Brooks stopped by to talk with DeGeneres following his big win as the 2017 Entertainer of the Year at the CMA Awards.
DeGeneres led up to her scare by talking to Brooks about his last visit and how he scared her show's producer. She played a clip of that moment, which was supposed to keep Brooks distracted.
Even though Brooks wasn't expecting anything, he didn't flinch a bit when someone jumped out of the side table and lurched at him. In fact, he started laughing!
His Reaction Gets Even Better
The whole ordeal was made all the more comedic by the fact that the person who scared Brooks actually tripped and fell as he tried to leap out of the table. Still laughing, Brooks calmly stood up and put the table's top back in its place.
"First of all, that was the worst scare we've ever done," DeGeneres said. "It didn't work in any way." She later went on to add, "That was pathetic."
DeGeneres may not have succeeded at scaring Brooks, but she sure got a good laugh out of him! The whole thing is sure to have you crackin' up as well, and you can check it out below!