Voice Viewers Given Power To Choose Songs
The Voice made sure to keep its contestants on their toes during Season 16, first with the introduction of the new fan-voted cross battles round. Then, The Voice welcomed viewer power yet again when it came time for the Top 13 artists to prepare songs the second week of normal live shows.
As The Voice has done in the past, it allowed viewers to vote for the songs they wanted the contestants to sing. So instead of picking the songs themselves, the artists were left to perform whichever song the fans chose for them.
In country singer Gyth Rigdon's case, he was tasked with singing "Nobody but Me," a song recorded by his own coach, Blake Shelton.
The Cover That Inspired This Choice
It's understandable why the viewers voted to have Rigdon sing "Nobody but Me." During the cross battles that took place two weeks prior, he sang yet another one of his coach's hit songs, "Goodbye Time."
Both "Goodbye Time" and "Nobody but Me" were featured on the same album, 2004's Blake Shelton's Barn & Grill. The former song was originally recorded by Conway Twitty, so Rigdon had a lot to live up to with his performance.
Fans obviously enjoyed it, since they voted Rigdon through as the winner of his cross battle.
And since they loved that performance so much, they wanted to challenge him with "Nobody but Me" when they got the chance to pick his song.
Voice contestants cover the coach's hits from time to time, and it's always a nerve-racking experience. Imagine how you'd feel singing one of Shelton's biggest hits right in front of him…especially if he was your coach!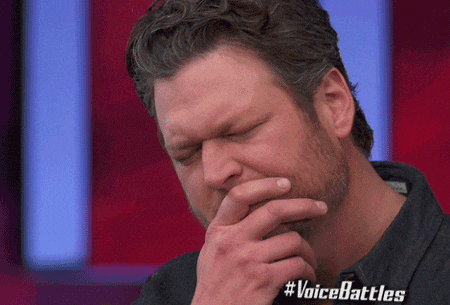 The Pressure Was On
Then, you have the added pressure of song familiarity. Fans tend to be extra critical of artists who cover their coach's songs, so the heat was on Rigdon.
But the seasoned singer didn't cave under all the extra weight. Instead, he went out on stage and delivered a passionate and energetic performance that had the crowd engaged from the start.
The viewers at home loved every second of the performance, and raved about it on Twitter once Rigdon finished.
I'm not really into country music but in my opinion he's the best!

— Stacey (@stacey_macgowan) May 7, 2019
Great job on Blake's song hope you make it@gythrigdon

— Ervena Bowman (@BowmanErvena) May 7, 2019
Way to go @GythRigdon ?????? excellent song choice! #TheVoiceTop13

— jaime ? (@hillerj76) May 7, 2019
Gyth knocks it out of park tonight! You did Blake and Blake's song honor. Great job! Looking forward to buying your new release!

— KC James (@lilkcjames) May 7, 2019
As for Shelton, he was the first coach to give Rigdon a standing ovation after his performance, so we'd say he was pleased!
Now you can see how Rigdon approached "Nobody but Me" by tuning in to the video below. The fans were challenging him with this song choice, and he was able to deliver!