14-year-old Nathan from Larne, Ireland delivered an insane performance of Bob Seger's rocking hit single "Old Time Rock and Roll " on The Voice Kids in the United Kingdom.
While he may not be dressed like your typical rock n' roller, he sure can sing like one! The audience enthusiastically cheered on the young singer while the coaches decided whether or not to hit the big red button to invite the young vocalist to join their team.
The 14-year-old rocker utterly floored the judges earning a two out of three chair turns from coaches Pixie Lott and Danny Jones of McFly, advancing him to the next round of the singing competition series. Nathan's thick Irish accent adds an interesting touch to the performance of the internationally treasured classic rock song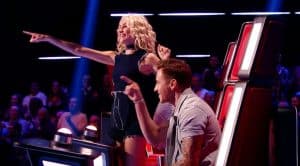 "Old Time Rock and Roll" was released by Seger in 1979, going on to become not only a hit song on a global scale but a fixture in popular culture since.
You can check out his rendition of "Old Time Rock and Roll" below.